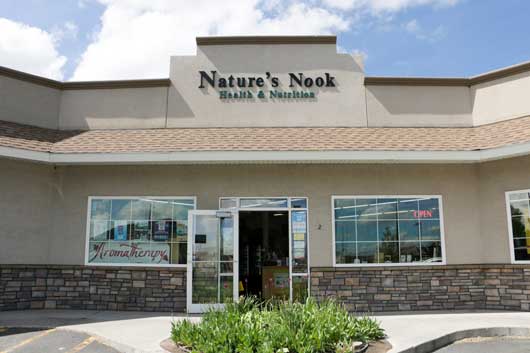 About Us
Nature's Nook originally started in the home of Doris and Clyde Stewart. The Stewarts, in an effort to grow the business, moved it into Rexburg right off Main Street. Upon retiring, the Stewarts sold Nature's Nook to Harley and Mary Jensen in the summer of 1994. Through the years Nature's Nook continued to grow and needed to expand. Harley rented out the space next door and doubled the size of the store.
When Harley died in 2001, Mary's son, Rick Barton, moved to Rigby and bought into the business. Since then, Nature's Nook has continued to grow. With the growth, another change was needed. Rick bought some land near 2nd East in Rexburg and built a new store.
Now Nature's Nook has more room and serves the community even better than before. Even though our size and location have changed, our commitment to our customers hasn't. At Nature's Nook, our customers are our friends.
We have a large selection of supplements including multi-vitamins, minerals, herbs, oils, homeopathic remedies and supplements for a variety of ailments. We also have products for gluten-free, low-sugar and allergy diets, protein powders, healthy snacks, nuts, dried fruits, grains and flours, cooking oils, spices, natural sweeteners, bulk herbs, tea, aromatherapy oils and supplies, and a wide selection of books on multiple subjects.
Helpful & Knowledgable
I've been going here for years and years. Very helpful and knowledgable. If they don't have what you need they will order it. That is rare, since they have so much. I've learned so much about "natural" ways to help my family when I had no answers anywhere else. They are very kind. I would highly recommend them
L. Swanson
Great Staff
Great staff and service; always very helpful and knowledgeable. They carry tons of vitamins and natural products. I would recommend them to everyone!
Brian Bell
Great Selection
Very knowledgeable and reliable service! Every natural/vitamin shop is different and will suit different needs to people and it didn't quite suit my needs but it's still got a GREAT selection of vitamins to choose from!
Anonymous