Sprouted Grain Breads
Sprouted grain bread is better not only because it uses the whole grain, but the process sprouted grains go through actually breaks down the proteins and carbohydrates in the grain, increasing vitamin content to the consumer.
Sprouted grain breads truly unlock the vital benefits our bodies need from grains. Some of the known benefits include: increased digestibility, increased absorption of minerals, increased antioxidants, and increased vitamin C and vitamin B.
Dairy Free Treats
People follow a dairy-free diet for different reasons. Some are allergic to the dairy proteins themselves, while others lack the enzyme lactase, which digests milk sugar, called lactose. People who are lactose-intolerant may choose to eliminate or reduce products containing lactose, while those with allergies must eliminate dairy proteins altogether. Nature's Nook carries a great selection of rice, soy and coconut frozen treats.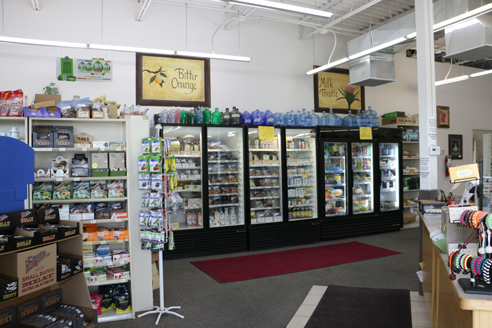 Gluten Free
Are you tired of dense, crumbly, gluten free bread that has no taste or texture?
Are you fed up with your gluten free bread always tasting the same? Are you in need of a change? Do you want diversity when it comes to choosing gluten free breads? Here at Nature's Nook, we sell a large variety of gluten free breads that are always light and fluffy! Treat yourself to the delicious tastes of classic white bread, multi-grain bread, white sandwich bread and more – all gluten free! Aside from the many choices of gluten free sliced breads, we also carry a large assortment of gluten free bread products, such as gluten free, rolls, tortillas, Hamburger buns, hot dog buns, muffins and donuts.
Farm fresh eggs and dairy
Our farm fresh eggs and A2 raw milk are delivered several times a week from local farmers. We also have Pasture raised cheese and butter along with mayonnaise substitutes, yogurt starters and much more.
Worry free dry goods
We have a large selection all natural and Organic dried fruits like bananas, blueberries, apples, dates, figs, goji berries, raisins, prunes and much more, We also carry a great selection of all natural and Organics Raw nuts, Almonds, brazil, hazelnuts, cashews, walnuts, pecans, pistachios and much more.
*These statements have not been evaluated by the Food and Drug Administration. This product is not intended to diagnose, treat, cure or prevent any disease.